Did you know that the 20th wedding anniversary is… CHINA!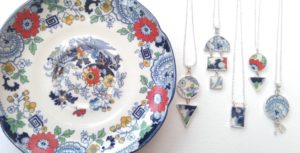 Each anniversary is marked by something traditional.  Many of us are familiar with big milestones like the 25th anniversary (silver), the 40th anniversary (ruby) or the 50th anniversary (gold) – but the 20th, which is a pretty big milestone, is celebrated with china.
So what are you going to buy your partner?  You could have a new china dinner service, but that's not very romantic.  Or maybe you could invest in a limited edition plate – something that could increase in value over the years – but that's still not very romantic.
I was grateful to a recent customer for pointing out that the broken china necklace he bought from me was appropriate for a 20th wedding anniversary for his wife – until then it really hadn't occurred to me.
But while it can be really difficult to come up with a suitable idea for an anniversary gift for a wife, most women would argue that men are even harder to buy for.  What a shame that I can't suggest to my buyer's wife that she should treat him to broken china cufflinks .
If you're looking for an anniversary gift, here's a list of anniversaries – but please double check before buying something as the list varies. This list is more typical of the UK – the list for the USA is slightly different (although the 20th anniversary in the USA is also china). Another difference between the British list and the American is that we have the first two anniversaries the other way around, the first anniversary in the USA is paper and the second is cotton. There has also been a shift in recent years towards a different, more modern, kind of purchase – the modern list suggests electrical appliances for the 4th wedding anniversary (yes, really!).
| | | |
| --- | --- | --- |
| 1st | Cotton | |
| 2nd | Paper | |
| 3rd | Leather | |
| 4th | Fruit/Flowers | |
| 5th | Wood | |
| 6th | Sugar | |
| 7th | Wool | |
| 8th | Salt | |
| 9th | Copper | |
| 10th | Tin | |
| 11th | Steel | |
| 12th | Silk/Linen | |
| 15th | Crystal | |
| 20th | China | |
| 25th | Silver | |
| 30th | Pearl | |
| 35th | Coral | |
| 40th | Ruby | |
| 45th | Sapphire | |
| 50th | Gold | |
| 60th | Diamond | |