Just for the record, neither of these have worked for me.
Both tend to clump together and fall off – defeating the object of the exercise.  The paste/gel seems to operate like a heat sink – drawing the heat away from the piece.  Folks who are experienced with soldering understand that you have to raise the temperature of the piece itself to get the solder to flow – directing the heat at the solder itself is not very effective.
Once my broken china jewellery piece has been assembled, it's really not possible to solder again because 1) the glue I add to provide extra security burns off with an almighty stink, the residue turning black and 2) the china itself is inclined to crack and discolour.  Technoflux and Thermo Gel are both intended to provide protection from the heat and the idea is to apply it liberally to anywhere that you are not soldering.
In this instance, having completed my pendant, I spotted that one of the jump rings had not closed properly.  I had used Technoflux before – with disastrous results – so was tempted to use a tiny dot of electronics solder. Yet somehow, and despite the fact that not everyone bothers to solder jump rings closed, using even a tiny amount of electronics solder on a fine jewellery piece just seems wrong.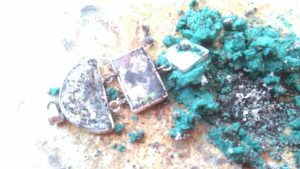 So I bought a pot of Thermo Gel.  I used about 1/4 of the pot (not going to be caught out by being too mean with it!) and layered it underneath the piece and plastered it thickly everywhere, leaving a tiny area with the offending jump ring clear.   As I worked, the gel dried, crumbled and fell away, so I stopped and reaplied the barrier as necessary.  Not only was the solder disinclined to melt (not hot enough) but the glue burnt off and the china was ruined.
I know that other jewellers use these products successfully, so there must be some reason why it just won't work for me.  Perhaps it can't be used over a large area…